Summer is the perfect season to show off your nails with vibrant and fun designs. From bright colors to tropical motifs, there are endless possibilities to create incredible nail designs for this time of year. In this article, we present 5 refreshing ideas for your Summer Nails. Get ready to shine with style under the sun!
Neon-colored nails:

Neon colors are an excellent choice for summer nails. Opt for bright shades like pink, lime green, orange, or yellow. You can paint all your nails the same color or experiment with different combinations for a bolder look. These nails will ensure you stand out at any party or on the beach!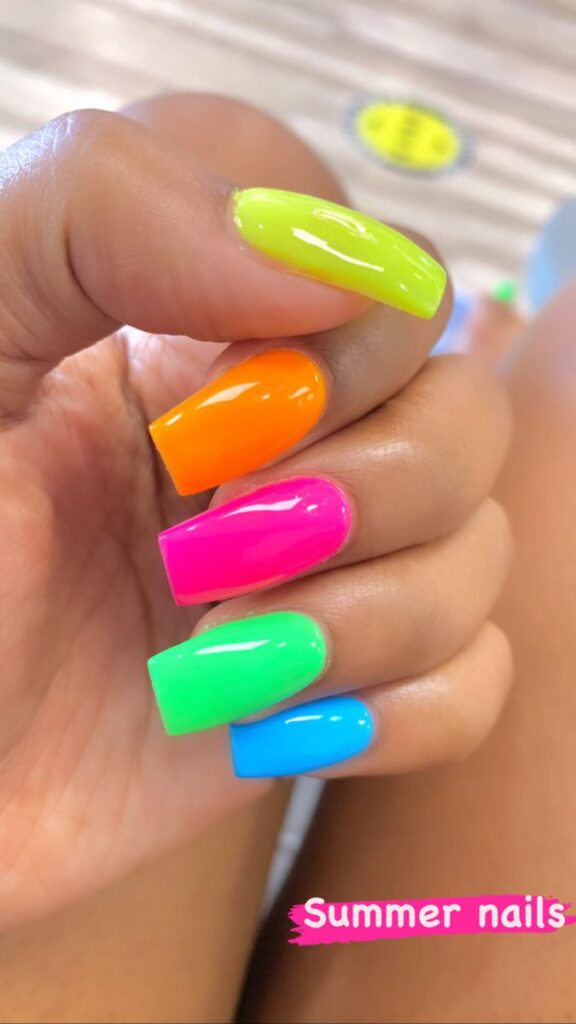 Tropical print nail design:

What better way to celebrate summer than with a tropical print on your nails? Try designs featuring palm leaves, exotic flowers, or even tropical fruits. Combine vibrant colors like green, blue, and yellow to recreate the tropical ambiance on your hands. It'll be like carrying a piece of paradise with you wherever you go!
Gradient nails:

Gradient nails are a popular trend for summer. You can combine similar shades of a single color or experiment with different complementary colors. Try a smooth transition of blue or pink tones for a cool and elegant effect. These nails will give you a modern and summery look that everyone will envy!
Nail design with sea-inspired details:

What evokes summer more than the sea? Decorate your nails with sea-inspired details like seashells, starfish, or anchors. You can use special stickers or hand-paint them. Combine colors like light blue, white, and gold to achieve a sophisticated maritime design. These nails are perfect for beach days or ocean getaways!
Holographic effect nails: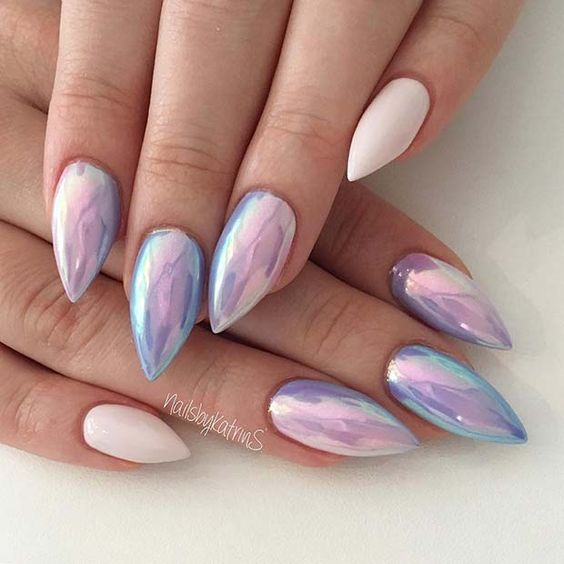 The holographic effect is an eye-catching option for your summer nails. Use holographic nail polishes to achieve a magical and ever-changing shine on your nails. You can opt for a full design on all nails or apply it only on details like dots or stripes. These nails will give you a futuristic and dazzling look for any occasion!
Watermelon design nails:

Watermelon is a classic symbol of summer, and you can bring this refreshing design to your nails. Try a combination of green, red, and white colors to represent the pulp and rind of the watermelon. You can add black seeds or glitter details to complete the refreshing design.
Ombre-style nails:

The ombre style is perfect for creating a soft, gradient look on your nails. Choose shades of colors that blend gradually, such as pink to orange or blue to turquoise. This nail design is versatile and suits any summer occasion.
Flamingo design nails:
Flamingos are known for their elegance and association with tropical locations. Create a fun and tropical design by using the iconic pink flamingo. You can draw small flamingos on one or two nails or even feature a flamingo on each nail. These nails will add a touch of fun and sophistication to your summer style!
Tropical fruit design nails:

Tropical fruits like pineapple, coconut, and banana are key elements of summer. Incorporate these fruits into your nail design using stickers, prints, or even hand-painting them. These vibrant and playful nails will surely catch attention and remind you of beach vacations.
Seashell design nails:

Seashells are symbols of marine life and evoke the feeling of being at the beach. Create a nail design with seashell motifs using colors like white, light blue, and gold. You can achieve this by using special stickers or practicing your drawing skills. These nails will transport you directly to the coast and make you feel the ocean breeze!