Are you looking to create a living room that is simple, modern, and inviting? Then you need to consider minimalist living room design! Minimalism is an interior design trend that focuses on creating an uncluttered space with clean lines and pops of color. This style can help create a calming atmosphere in your home while still being aesthetically pleasing. Read on to learn how you can create the perfect minimalist living room.
1. Start with a Neutral Color Scheme
The key to creating a minimalist living room is starting with a muted, neutral color palette. This will allow for pops of color without being too overwhelming. Stick with shades of white, grey, or tan for furniture and walls, then add accent pieces like pillows or rugs in bolder colors.

The Benefits of a Neutral Color Scheme.

Neutral colors have many benefits when it comes to creating a minimalist look. For starters, they provide a blank canvas for experimentation as you explore different design elements like texture and shape. Plus, there are dozens of options to choose from—beige, gray, ivory, taupe—the list goes on! This makes it easy to find the right shade for any space. Another advantage of using neutrals is that they are much easier to work with than bolder colors because they don't overpower the room or detract from other design elements. Finally, neutrals are timeless; by choosing them as your foundation color scheme you ensure that your space will remain stylish no matter what trends come and go over time.
How To Incorporate Neutrals into Your Design.

Now that we've established why neutrals are so important for minimalist living rooms let's talk about how to incorporate them into your own design. The key thing to remember when deciding which neutrals to include in your palette is that less is more; try not to overdo it by including too many shades in one space as this can make the room feel cluttered or chaotic. Consider sticking with two or three complementary shades such as white walls paired with gray furniture and accents of beige or taupe throughout the room. You can also mix up textures within those colors—for example using velvet pillows or grasscloth wallpaper against linen curtains—to add dimension without compromising on minimalism.
2. Choose Furniture Wisely
Minimalism relies on simplicity so it's important to choose furniture pieces that are stylish but also functional. You don't need an over-the-top sectional sofa or coffee table set; instead look for pieces that have clean lines and make good use of the space you have. A comfortable armchair and ottoman combo can provide seating without taking up too much space while tall bookshelves are perfect for storing items without cluttering the room.
Choose Multi-Functional Pieces
When choosing furniture for a minimalist living room, it's important to select pieces that are multi-functional. For example, an ottoman or coffee table can serve as both seating or a surface area depending on your needs. This type of flexibility will help make sure that your furniture is always working hard for you and not taking up unnecessary space in your home. Additionally, select pieces with storage capabilities like end tables with built-in drawers so you can keep clutter at bay without having to sacrifice style points.
Consider Your Color Scheme
The color scheme of your minimalist living room should be cohesive and neutral but still have some personality and life to it. To do this, it's important to think about which colors work best with each other—and how they will look together in the space. You don't want too many bright colors competing against one another, so stick with tones like white, black, gray, cream, beige and other muted shades for maximum visual impact and harmony.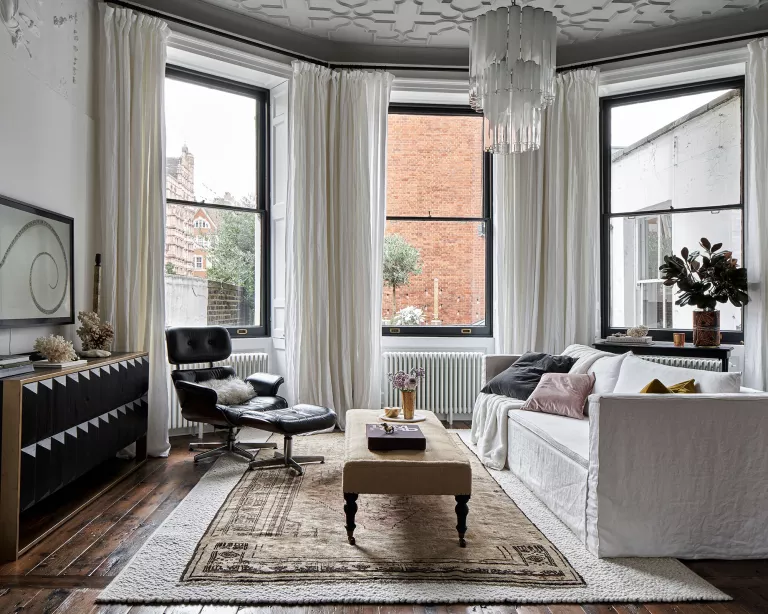 Invest in Quality Materials
When it comes to materials, quality is key when creating a minimalist living room design. Investing in high-quality materials will ensure that your furniture looks great now and well into the future—and makes sure that you won't have to replace it anytime soon. Choose furnishings made from durable materials like leather or wood so they last longer while still maintaining their aesthetic appeal over time. This is especially important if you plan on using any pieces of furniture frequently; investing in something more expensive upfront will save you money down the line when it doesn't need replacing as often as lower quality items would require.
3. Add Some Greenery
Plants bring life into any room and they are essential when it comes to creating a minimalist living room. Pick plants in various sizes and shapes such as succulents or cacti which require minimal care but will still provide texture and color to the space. If you want something larger, opt for leafy trees or ferns which will add height to your living area without taking up too much floor space.
Conclusion:
Creating the perfect minimalist living room doesn't have to be daunting! All it takes is some careful planning and thoughtfully chosen pieces that fit your aesthetic preferences as well as your lifestyle needs. Start by picking out a neutral colour scheme, then choose furniture wisely before adding some greenery into the mix! With these tips in mind, you'll be able to create the minimalist living room of your dreams in no time at all!