Interior design doesn't have to be expensive. In fact, there are plenty of budget-friendly ways to spruce up your home without breaking the bank. From DIY projects to thrift store finds, here are five amazing ways to make your interior design dreams come true.
1. Paint it Up
A fresh coat of paint can do wonders for any room in the house. Whether you're aiming for a bold new look or something more subtle, painting is an easy, inexpensive way to instantly change the vibe of any space. Plus, it's a great DIY project that anyone can tackle with minimal supplies and experience.
2. Rearrange Your Furniture
If you're looking for a totally free way to update your home décor, why not rearrange your furniture? Allowing yourself to think outside of the box and move pieces around can often give rooms a whole new feel without spending a single dime!
3. Shop Thrift Stores
Thrifting is one of the easiest and most affordable ways to find unique pieces for your home—from furniture and rugs to knick-knacks and artwork. You just never know what type of cool stuff you'll find at thrift stores, so don't be afraid to dig around! Just make sure you always take measurements before going shopping so that you know exactly what size pieces will fit in each room.
4. Get Creative with Wall Decor
An easy way to add some pizzazz without spending too much money is by getting creative with wall décor—think hanging tapestries and macramé wall hangings or even creating your own artwork from scrap fabric or paper! With just a few simple supplies, you can easily create beautiful designs that will last for years to come.
5. Don't Forget About Plants
Houseplants are all the rage right now—and they happen to be one of the most cost-effective ways to spruce up any room in your home! Not only do plants bring life into a space but they also have health benefits such as filtering out toxins and improving air quality in the home (bonus!). Plus, many plants require minimal maintenance and upkeep—which means more time for enjoying their beauty!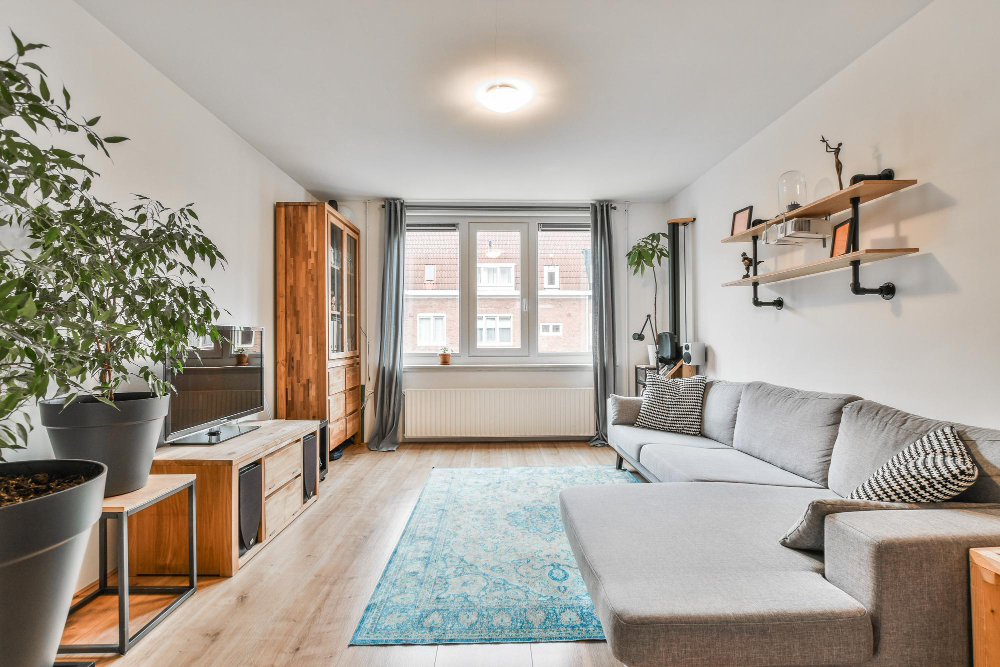 Plants bring life into any home no matter its style—and thankfully you don't have spend much money doing so! Place smaller plants along windowsills, hang bigger plants from ceiling hooks, add some succulents atop bookshelves—the options are endless! If gardening isn't really your thing but you still want some greenery around the house, try artificial plants which look just as good but require no maintenance whatsoever!     
6. Hang Mirrors
Mirrors give a space more depth while also reflecting light and making a room appear larger than it actually is. Depending on their size, mirrors can also act as art pieces in any space and can be hung horizontally or vertically depending on what best suits the room's decor scheme and layout. For maximum impact, consider hanging several small mirrors group together rather than buying one large mirror.
7. Invest In Throw Pillows And Blankets
Throw pillows are instant mood enhancers and come in an array of patterns and styles that suit any taste or budget; they're also great for adding texture and pattern to a neutral-colored couch or bedspread without spending too much money at once. Similarly, blankets are useful accent pieces for any living space; plus they let you add seasonal touches like lighter textures during warm months or heavier ones during colder months for extra coziness all year round! 
Conclusion: With these five tips in mind, it's easy (and cheap!) to makeover any space in your home! Whether you opt for DIY projects or thrift store finds, there are plenty of ways to get creative with interior design on a budget—so don't be afraid to let your imagination run wild! And remember: if all else fails, never underestimate the power of adding some plants into the mix! They're surefire way make any room feel brighter and fresher than ever before!